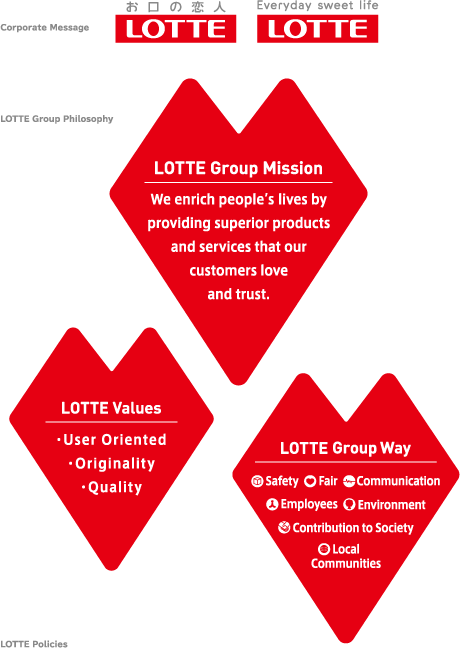 Corporate Message

Company name "LOTTE" comes from Charlotte, the heroine in the novel The Sorrows of Young Werther written by a notable German author Goethe.
LOTTE envisions to be loved by everyone though enriching their lives, just like she has done.
LOTTE Group Philosophy
Philosophy
LOTTE Group Mission
We enrich people's lives by providing superior products and services that our customers love and trust.
LOTTE Values
User Oriented
Seeing things from the consumer's point of view
Originality
Continuously searching for creative ideas
Quality
Pursuing the highest quality in every area
Behavior Charter
| | |
| --- | --- |
| | 1. We provide safe, high-quality products and services. |
| | 2. We are fair and compliant with laws and regulations. |
| | 3. We disclose relevant information. |
| | 4. We value and care for all our employees. |
| | 5. We make efforts in addressing environmental problems. |
| | 6. We make efforts to contribute positively to the society. |
| | 7. We work with local communities around the world. |