Message from the President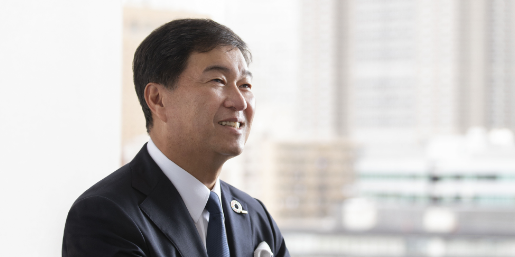 We will seek to remain a company regarded as necessary to society by always keeping our Purpose in mind as we continue to work toward achieving a sustainable society and environment through our business activities.
First of all, I would like to offer my sincere sympathies to all those who have contracted the novel coronavirus (COVID-19) and their families, and send them my best wishes for a speedy recovery. I would also like to express my heartfelt respect and gratitude to the healthcare professionals who are dedicating themselves day after day to preventing infection from spreading and treating patients. As a company that manufactures and sells confectionery and ice cream, we have taken all possible measures to ensure rigorous hygiene management and prevent the infection of our employees, suppliers, and anybody else involved with our operations, as we work to continue delivering stable supplies of products. I am sincerely grateful for the efforts of the many suppliers and others involved with material supplies, logistics, and sales.
The spread of COVID-19 has caused unprecedented upheaval within societies and had a massive impact on economies. At the same time, however, various signs of change have emerged. The adoption of digital technologies has proceeded faster than ever before, to the extent that 10 years' worth of radical transformation is said to have occurred in a single year. I also think that the complete change of lifestyle has prompted people to regard the Sustainable Development Goals (SDGs) and sustainability in general as issues of relevance to their own lives, which has speeded up a range of related initiatives.
At LOTTE, we have introduced new work styles employing digital technologies, such as working from home and online meetings. Meanwhile, those employees who have no choice but to travel to workplaces to continue business activities related to production and logistics have maintained their efforts to prevent infection as they carry on working. However, it seemed to me that, when work styles had suddenly diversified at a stroke in this way, companies also had to change. I saw the need for something that could compensate for the loss of the corporate culture and atmosphere cultivated when employees interact in person and work together within the same space. That role will be fulfilled by our purpose as a company (referred to hereafter as our "Purpose"), which we put into words during 2020 as "We enrich people's lives by delivering delicious confectioneries and ice cream to everyone, pursuing wellness through the benefit of chewing, and bringing lots of happiness and fun with superior products and services. Following repeated internal discussions, we articulated how we relate to society and what society requires of us. Even when the physical form that companies should take is in question, I believe that, if our employees are fully on board with our Purpose and understand what they must do for society, they will demonstrate their own individual capabilities, and that will lead to our sustained growth as a company.
Even before COVID-19, there were signs of increasing concern for the SDGs and sustainability in the form of more widespread ethical consumption and other changes in lifestyles and purchasing behavior. Then the COVID-19 crisis appeared to advance that trend by several degrees, and it is now no exaggeration to say that a delay in responding to such changes could prove fatal to a company's continued survival. In response to this situation, we are taking steady action to achieve our Medium-Term ESG Targets while embarking on new initiatives. For example, we joined a new recycling-oriented shopping platform called "Loop" that replaces the packaging for foods and daily commodities with reusable versions; we started selling Xylitol brand products on the platform in May 2021. This initiative is still at the trial stage, but despite these products being sold at higher unit prices than the conventional versions, the response has exceeded our expectations, bringing home to us just how much interest in sustainability exists. What is more, the Japanese government's commitment to achieving carbon neutrality by 2050 means that this trend is likely to become irreversible and pick up pace. At the Leaders Summit on Climate held in April 2021 Japan announced a new, higher emissions reduction target. In light of this announcement, we also updated the target for the reduction of CO2 emissions in our Medium-Term ESG Targets. We now intend to do more than ever before to conserve energy and utilize power derived from renewable energy sources to contribute to the widespread use of renewable energy throughout Japan.
In a dramatically changing world, we will seek to remain a company regarded as necessary to society by always keeping our Purpose in mind as we continue to work toward achieving a sustainable society and environment through our business activities.

President
Representative Director