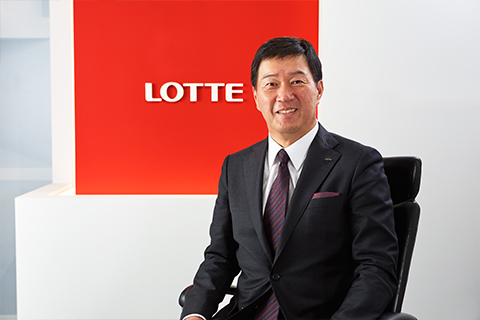 Lotte Holdings Co., Ltd.
President / Representative Director


Takayuki Tsukuda
Since Lotte began producing and selling chewing gum in Tokyo in 1948, the company has grown into a global conglomerate with businesses not only in Japan and South Korea but around the world. I am very grateful for the support and patronage from our customers, partners, and all our other stakeholders who have made this possible.

The company's name, Lotte, was taken from the heroine, Charlotte, of The Sorrows of Young Werther, written by the German literary master Goethe. Our corporate message, "Sweetheart of Your Mouth," embodies Lotte's desire to always be loved by everyone just like Charlotte is known as the "eternal love."

Turning to the business environment faced by the company, changes are taking place on a global scale and at a rapid pace that has never been seen before. New economic dangers, geopolitical instability, huge numbers of refugees, and abnormal climate phenomena around the world are creating unforeseeable risks that are difficult to deal with. At the same time, Japan is undergoing a declining birthrate, falling population, and graying of society that are changing the way people live and requiring new value. In response, the Lotte Group will utilize the knowledge and experience it has accumulated over the years to create new products and services to quickly meet the needs generated by these changes and provide them to people throughout the world.

During the 70 years that our products have been loved as "Sweetheart of Your Mouth," we have built a reputation for "contributing to enriching the lives of people around the world" based on our corporate philosophy. Going forward we will carefully maintain our values of "User Oriented," "Originality," and "Quality" as we aim to expand our operations as Lotte welcomes its 80th and then 100th anniversary. With this in mind, I ask for your continued patronage and support. Thank you.